Posted by ukaware in Sustainable Living
on Apr 4th, 2013 | 0 comments

For a while there we all thought that the notion of "going green" was just a passing fad. The good news is that green technology and sustainable living are here to stay. Frankly, the necessity for this development has been a long time coming, and everyone needs to catch a wake up. Without efforts on our part, our planet will continue on its path of devastation. Look at it this way: we really are just guests here and if we do not make the necessary changes, we will have outstayed our welcome. A "green energy" approach in the home is the first step towards successful sustainable living.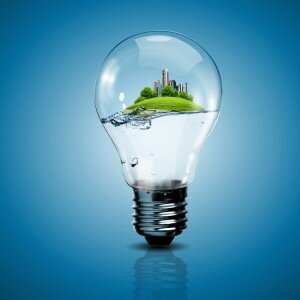 Water is one of the resources we tend to waste. Warm water even more so. Instead of using smaller bits of water throughout the day, it is best to use up all the warm water in one go. Try to do dishes all at once, either in the morning or in the evening. If you have a family under one roof or if you are in a communal living situation, try to get everyone to shower at the same time of the day (though obviously not all at once). Using up all the water will only require re-heating to happen once instead of continually throughout the day. This saves a surprising amount of energy.
Solar panels are one of the most popular examples of green energy usage. By harnessing the UV power of the sun's rays, you can heat up the water in your home. These panels can also be used to channel energy towards ceiling fans and other items that would otherwise consume unnecessarily large amounts of electricity. Not only will you be doing your bit towards saving the planet, but you will also be saving yourself a pile of cash.
Compact fluorescent lamps and LED light bulbs are probably the smallest example of green technology. We often underestimate the amount of energy that light bulbs consume. By switching to these energy efficient bulbs, you will use less electricity. These bulbs cost only a fraction more than more conventional light bulbs but they are definitely more economical in the long run.
Home heating systems are another example of bad energy usage. By switching to a pellet stove, you will be able to keep your home toasty and warm during the winter months without resorting to overly high energy consumption. The pellets used in these stoves are made from sawdust, which is a lot more economical and environmentally friendly than huge piles of wood.