Posted by ukaware in Sustainable Living
on Apr 4th, 2013 | 0 comments

For a while there we all thought that the notion of "going green" was just a passing fad. The good news is that green technology and sustainable living are here to stay. Frankly, the necessity for this development has been a long time coming, and everyone needs to catch a wake up. Without efforts on our part, our planet will continue on its path of devastation. Look at it this way: we really are just guests here and if we do not make the necessary changes, we will have outstayed our welcome. A "green energy" approach in the home is the first step towards successful sustainable living.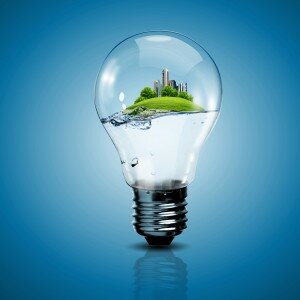 Water is one of the resources we tend to waste. Warm water even more so. Instead of using smaller bits of water throughout the day, it is best to use up all the warm water in one go. Try to do dishes all at once, either in the morning or in the evening. If you have a family under one roof or if you are in a communal living situation, try to get everyone to shower at the same time of the day (though obviously not all at once). Using up all the water will only require re-heating to happen once instead of continually throughout the day. This saves a surprising amount of energy.
Solar panels are one of the most popular examples of green energy usage. By harnessing the UV power of the sun's rays, you can heat up the water in your home. These panels can also be used to channel energy towards ceiling fans and other items that would otherwise consume unnecessarily large amounts of electricity. Not only will you be doing your bit towards saving the planet, but you will also be saving yourself a pile of cash.
Compact fluorescent lamps and LED light bulbs are probably the smallest example of green technology. We often underestimate the amount of energy that light bulbs consume. By switching to these energy efficient bulbs, you will use less electricity. These bulbs cost only a fraction more than more conventional light bulbs but they are definitely more economical in the long run.
Home heating systems are another example of bad energy usage. By switching to a pellet stove, you will be able to keep your home toasty and warm during the winter months without resorting to overly high energy consumption. The pellets used in these stoves are made from sawdust, which is a lot more economical and environmentally friendly than huge piles of wood.
Posted by ukaware in Technology
on Apr 9th, 2013 | 0 comments
Internet marketing is vital to our cause of Global waste reduction and lifestyle change, if we can reach enough people, we can make a difference. Naturally there are people all around the world both isolated and in large number that support the cause of sustainable living, and some that would, but just dont know it yet. As such its critical that our message reach as broad an audience as possible and the internet provides that capability. Search engines and green companies they know them well like a Utah SEO agency are key to uniting the isolated all around the globe. Studies show that a high number of information consumers use online research and social media to analyze topics, products and price research prior to making the final decision. Online marketing enables entrepreneurs build relations with potential clients through low-cost and regular personalized communication. It also has numerous other benefits.
Convenience
Online marketing makes it possible for a businessman to open business around the clock with no worries about staff overtime payment or store opening hours. Offering products and services via the internet is also convenient to the clients. They can check out the products for sale by browsing online anytime and make purchases in a way that is convenient to them.
Reach
An entrepreneur can overcome distance barriers through marketing via the internet. He can sell products in any corner of the nation without having to set up local outlets, in the process widening his target marketing. It is also possible to build an export business without having to open a distribution network in other countries. However, to sell internationally, an entrepreneur should apply localization services to ensure the products comply with local regulations and are suitable for local markets. Localization services include product modification and translation to reflect differences in local markets.
Cost
Marketing products via the internet is much cheaper than doing so via a physical retail outlet. There are no recurring costs such as maintenance and property rental.   The entrepreneur does not have to buy stock for display in a store. He can make orders for stock in line with demand, keeping his inventory costs low.
Personalization
Through building a profile of customers' purchasing preferences and history, an entrepreneur can personalize offers to them through internet marketing. By tracking the product information and web pages that potential clients visit, the businessman can make targeted offers reflecting their interests.